Changing Lives with Smiles
Braces have the power to change lives! Dr. Green and our team believe nearly every child can benefit from braces in some way, whether it is through improved oral hygiene or improved self-esteem. Children and adults who get braces tend to have better self-esteem, which translates into more confidence, more friends, and better job prospects. The benefit of braces is lifelong and we thoroughly enjoy sharing our talent and expertise to enrich the lives of our patients. It is an honor for us to be such a huge part of their lives and happiness.
Our team is here for you and your smile!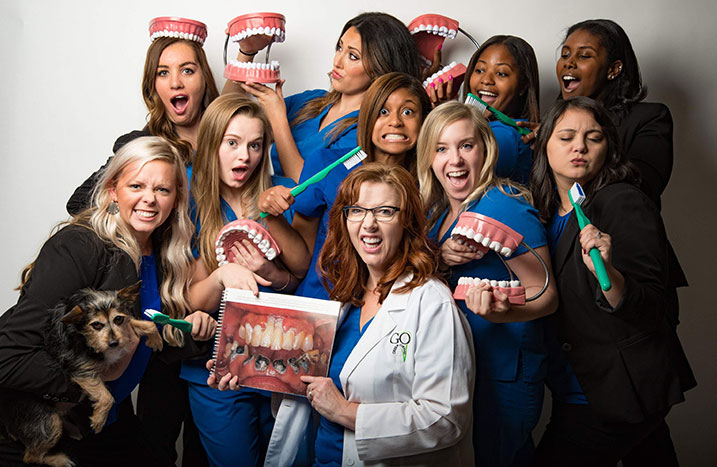 Our doctor and staff are truly what set us apart from other practices in the area. You will not find a more educated or compassionate staff anywhere in Tennessee. Dr. Green is the go-to orthodontist for complex and serious cases, as that is where her exceptional experience and expertise shine the most.
All of our team members in the office, from our front reception to our clinical assistant, are Registered Dental Assistants. This is because Dr. Green places such a huge importance on education and self-improvement. We also have a Specialized Orthodontic Assistant on site, which is a certification beyond RDA.
Part of the Community
We are known as the community orthodontic office. Upscale and fun, we tailor our services to the needs of each individual patient. It is important to Dr. Green that we consistently give back to the community, as a business should be a servant of the public. From sponsoring the local school band to participation in large-scale community events, our supportive presence is always there. Not only are we supporters of the community, we are part of the community. All of our staff are long-time residents of Clarksville and feel their lives are enriched by their experience each day with our patients.
Focus on Quality
Quality is a core trait of our office. From the moment you walk through the door to the day we unveil the perfect smile, the beauty is in the details of the experience. We make it a point to hire quality staff and use quality supplies for our patients. We go the extra mile to ensure patient safety and satisfaction and Dr. Green even provides ProSeal at no additional charge to our younger patients to preserve their teeth and to prevent white spots.
A Fun Environment
We also want to ensure parents are comfortable, and we do that with a luxurious waiting room that is topped with amenities such as computer stations, video games, and all of the most popular magazines. We also provide complimentary beverages and keep fresh-baked cookies stocked in reception for our patients and their families!
On-Time Appointments
Most of our patients are taken back right at their appointment time and it is incredibly rare for a patient to wait longer than 15 minutes for their scheduled appointment. This is a policy at Green Orthodontics to reduce wait times, as we respect and value our patients and their families.
How else do we excel?
We boast one of Clarksville's only two BOARD-CERTIFIED orthodontists. This is a qualification beyond a standard orthodontist license!
Our practice has been voted Clarksville's Best six years in a row.
Our therapy dog Lily helps keep patients comfortable and eases patients with dental anxiety.
Our orthodontic supplies are made right here in the USA. We guarantee high- quality service and products throughout your entire treatment.
We guarantee world-class service. Our staff is expertly trained with weekly continuing education to ensure you always receive the most personable, cutting-edge service.
We accept all insurances! Our treatment coordinator is ready to design a plan that works for you.
Please contact our practice to learn more about orthodontics, and schedule your new-patient consultation with Dr. Green!