April 8th, 2021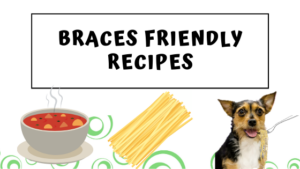 The first few days of braces may cause a little bit of soreness. Many people think that they are limited to only eating mashed potatoes, Jell-O, smoothies or yogurt. That is not the case! Felicia, one of our registered dental assistants, put together some braces safe recipes for you to enjoy!
Taco Soup
Ingredients:
• 1 pound ground beef
• 1 envelope taco seasoning
• 1 can (15 ounces) black beans, undrained
• 1 can (15 ounces) whole kernel corn, undrained
• 1 can (15 ounces) light red kidney beans, undrained
• 1 can (10 ounces) rotel diced tomato with green chiles (any flavor of spice I personally use mild)
• I envelope ranch salad dressing mix
Directions:
1. Cook beef until no longer pink, breaking into crumbles; drain. Add taco seasoning and mix well.
2. In crockpot add all can ingredients; juice and all. Stir in ranch salad dressing mix.
3. Stir in cooked meat. Then cook on low for 6 hours or high for 3 hours. Then serve
Taco Soup is great paired with sour cream, avocado, chives, shredded cheese, and/or jalapenos.
This next recipe is another great one especially if you like spaghetti noodles.
Chicken Spaghetti
Ingredients:
• 2 pounds frozen boneless chicken breast
• 1 (16 ounces) package of spaghetti noodles
• 2 (10.5 ounces) cans of cream of mushroom
• 2 (10.5 ounces) cans of cream of chicken
• 1 (16 ounces) package of Velveeta Cheese
• 1 teaspoon garlic powder
• 1 teaspoon onion powder
• 1 cup shredded cheese
Directions:
1. Place chicken in a large pot and just cover with water. Cook over medium heat until cooked through. Allow to cool enough to handle, then shred using two forks.
2. Preheat the oven to 350 degrees. Lightly grease a 13x9 inch baking dish with non-stick cooking spray.
3. Cook the pasta according to package directions. Drain and set aside.
4. In a large pot, combine the cream of mushroom, cream of chicken, and Velveeta cheese. Heat over a low temperature until cheese is fully melted. Add the garlic powder and onion powder. Add the shredded chicken and cooked noodles. Mix well. Pour the mixture into prepared baking dish and sprinkle shredded cheese.
5. Bake for 20 minutes or until cheese is melted.
Remember, we do NOT want to eat hard or sticky foods such as nuts, candy, and hard breads. So be sure to enjoy that spaghetti, but leave the baguette for a friend without braces!